Our couple's sessions will bring you to the heart of the matter, focusing on the positive aspects of your relationship and facilitating great insight into your self and your partner. We help you to understand the deeper story that underlies some of your most challenging dynamics and provide you with the tools by which to negotiate conflict and grow into more loving acceptance and connection.
Our intention in working with couples is always toward the resolving of re-occurring conflict and the cultivation of positive relationship and deepening love. Four simple principles provide the foundation of our approach. They are ....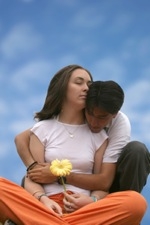 1. Finding or rekindling connection.
2. Deepening in appreciation for our partners and ourselves.
3. Taking responsibility for ourselves and learning to withdraw blame and judgment.
4. Learning to accept our partner as they are.
For more about our 4 principles, click here.
We also work with the Radiant Loving Process, which we have developed. This process will help you to identify some of the repeating arguments and core conflicts in your relationship; then offers a powerful means to shift you from feeling stuck to feeling open and connected.
We know the benefit of living in a conscious, thriving relationship because our journey of the past 30 years has been to learn to live that with each other. Our work has grown from our experience, both personal and professional, and we love sharing the principles and practices that have made a profound differences in our lives. We know they work!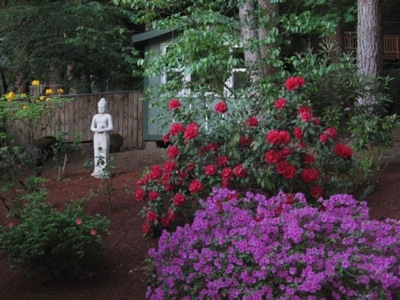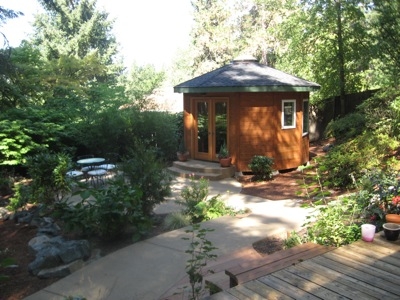 Located in a forest sanctuary on our home property in South Eugene, the beautiful and peaceful setting supports our clients growth and healing.
• • • • • • • • • • • • • • 
We facilitate sessions for couples both individually and together.  Please contact us if you have questions about couple's counseling or if you would like to set up an appointment.
For more information call 541-687-2835 
Email Louis ....  Email Trinity
Here is what some of our couples have had to say ....
"I am deeply impressed with the wonderful way you helped us to strengthen our relationship. Your standards are high, not only for us, but also for yourself. You say what needs to be said, and you listen when those magical moments happen. It takes extraordinary skill, but also capacity and humility to let the universe do its thing. I feel blessed with having you in this time of transition and sacred work." TR
"We are so indebted to you both. You have changed and are changing our lives. You have helped us and continue to help us create a relationship that is loving, caring and most of all – honest."
W&VC
"Trinity and Louis create a professionally facilitated and sacred-space, within which we feel safe and supported. They are incredibly intuitive, very compassionate and totally focused. The sessions are passionate fun. There is a liberating atmosphere of dramatic tension as Trinity and Louis pass the ball to one another. We're never sure what is coming next—but we know it will be 'spot on. Goal!! . A true partnership is emerging for us and the joy of our first years together (now some 20 years ago) is re-emerging."SP&PM