Every year at Summer Solstice, we journey with 10 courageous individuals to the Southeastern Oregon desert to meet the soul of the wild ~ both within and without. This is an amazing journey, one that involves the ritual dying to something within oneself that is ready to die. In releasing so profoundly we invite the birth of a new aspect of self. The personal transformations that unfold for our participants are powerful and life changing. Many people through out time and in many cultures have undergone this powerful archetypal journey of the quest for the good of themselves and their community. The Dreamwalk is our enactment of this archetypal journey.

Are you ready to fully allow something to pass? Others who have traveled with us in years past have 'died' to an aspect of self that no longer serves, a stage of life that is passing, an occupation or profession that needs to be over, a relationship that has past, the mourning of an important person in their life that has died; indeed any transition that is upon you, or that needs to be upon you, is ripe fruit for the quest.

We invite you to join us.
The desert calls. Are you ready?

Rainbow Warrior Awaken!
Something within must die.
If you allow the fire to burn to ash,
The phoenix will arise and fly.
Do not fear transition,
For death brings life anew.
The Rainbow Door awaits you.
Will you let yourself go through?

© 2010 Rainbow Warrior Awaken! Your Journey of Guidance and Healing

Several spots have already been spoken for but there is still space available Would you like to join us for the experience of a lifetime?

If you feel called to join us, don't hesitate to state your intention by emailing Trinity for registration information. Or call us at 541-687-2835. If we don't know you, a meeting with Louis is required to confirm participation. Last year The Dreamwalk was full in March!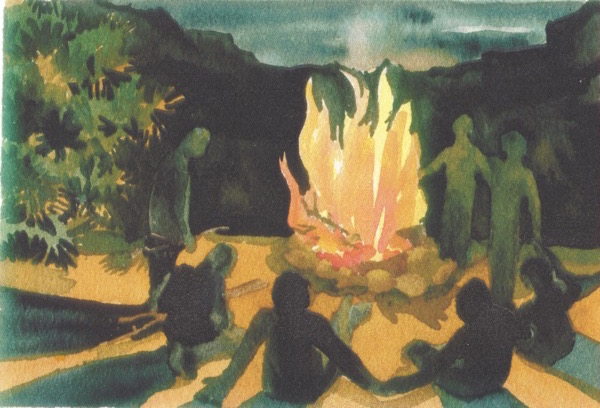 The Dreamwalk:
Sacred Quest of the Spiritual Warrior
with Louis Carosio and Trinity Harris

Tuesday, June 21st to Sunday, June 26th 2016
Trip leaves from and returns to Eugene, OR
Journey into the dream of your life! Every June we take this extraordinary and mythical journey we call the Dreamwalk. It is an event we look forward to with all of our heart and soul. Those who journey with us on the Dreamwalk experience a most profound inner transformation and connection to Spirit.

Within the rites and rituals of the sacred quest we will open the doors of perception and view our past, present and future as the waking dream of our life. Surrendering to Spirit, our hearts cry out in release of those aspects that limit and bind us and keep us from true freedom.

The Dreamwalk embodies the journey of the Spiritual Warrior through the rights and rituals of the sacred quest. Dreaming circles, group process, fasting and solo time on the mountain will open the doors of perception in order to view our past, present and future as the waking dream of our life. Surrendering to Spirit, our heart will cry out in release of those aspects that limit and bind us, and keep us from true freedom.

The Dreamwalk unfolds amid the magnificance of Southeastern Oregon. Stunning vistas, beautiful canyons and ancient power spots provide the container for this sacred journey.

The Dreamwalk Includes:
* 6 days on the sacred mountain
* Fasting and 48 hour solo experience
* Energetic clearings and shamanic processes
* Daily dream circles
* Sacred ceremony and song
* Teachings and practices of spiritual warriorship
Which offers:
* Profound connection to the Spirit of All (Source)
* Deep purification of Body and Mind
* Powerful release of old limiting patterns
* Increased clarity, greater freedom and mastery of the dream
* Connection to your True Self
* Clarity of vision for your future
* Experience of your joyful, radiant, self
* Oneness with Self, Others and Spirit

June 21st-26th, 2016
$750 plus travel expenses (carpooling)
Visa and Mastercard Accepted

To obtain registration info, please email Trinity or call 541-687-2835